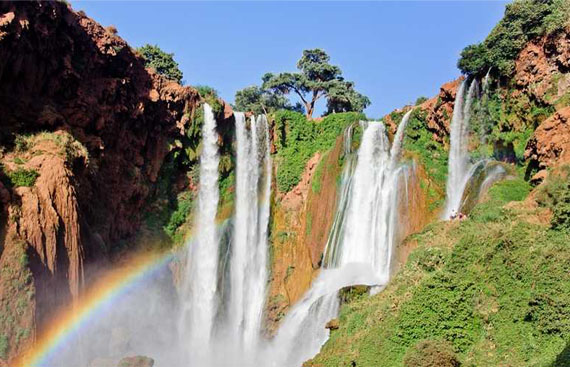 Not far from Tanaant, one of the most beautiful sites of the Middle Atlas, or sumptuous waterfalls of a permanent rainbow, with the height of more than 100 m in a basin of limestone rocks in the middle of a luxurious vegetation. Olive, almond and fig trees are the guests of honor. The monkeys of the waterfalls also inhabit this joyful nature and create a harmony with the songs of birds.
The Ouzoud waterfalls is a tourist site entirely dedicated to pedestrians, calm and natural. Are you a swimming enthusiast? You will enjoy; several bathing places are available, and just next door, small Berber restaurants which will serve you the delights of the Middle Atlas. The culinary art of the region is to be discovered.
Without recommending the Berber craft shops, you will be enchanted and confused by this art hidden in the depths of the mountains and protected by the Ouzoud waterfalls. The local culture is also at the rendezvous. The Ouzoud waterfalls are a two hour drive from Marrakech, over a distance of 170 km north of Marrakech.
An air-conditioned car will transport you to your destination, with a professional driver who will guarantee you comfort and tranquility throughout the journey. Treat yourself to a moment of pleasure with "Taxi Arganier". And enjoy the Ouzoud waterfalls excursion.