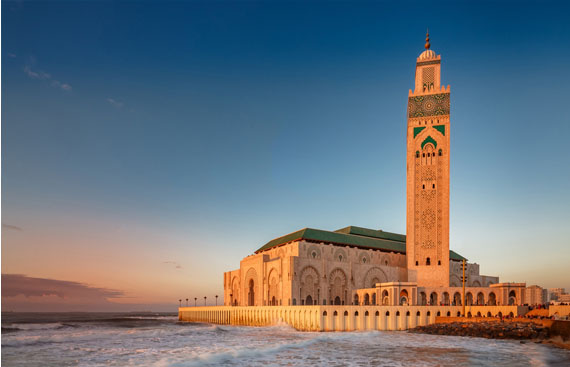 Book your comfortable vehicle with Taxi Essaouira Casablanca and enjoy a luxurious trip in comfort from Essaouira city to Casablanca without difficulty. Our rates are very competitive, you can also order a cheap transfer from the Airport of the city of Essaouira to Casablanca at a very affordable price.
Everything is easy, if you Book your ticket before the departure date. The driver welcomes you in a vehicle of the corresponding type and capacity. The driver must have information about passengers, children, luggage and the name of your destination before leaving.
Transfer from Airport Casablanca
Transfer from Casablanca
Taxi booking Casablanca
Book easily online and in a few clicks, your taxi driver for all your trips to Casablanca and its surroundings. We are specialized in airport and train station transfers as well as for short and long distance races with a top-of-the-range service. Drivers immediately available in Casablanca, Taxi Arganier offers services tailored to your needs. To book your race, you can also contact us by phone or email.
Cheap Taxi: Preferential rates
Taxi Arganier is a group of taxi artisans. Within our company you benefit from professional drivers who know the city of Casablanca perfectly. For professional or personal journeys, do not hesitate to call on the service whatever your journey, we will transport you to the Casablanca region or to the neighboring cities, we are reachable 24 hours a day - 7 days a week by telephone or by email.
Taxi Casablanca Essaouira for your business trips
The Casablanca region very often hosts national and international businessmen. Indeed, the city promotes professional exchanges. In order to support managers, company executives or employees traveling in the city of Casablanca, our passenger transport company offers its Taxi services. We put a Casablanca taxi at your disposal to allow you to move more easily and without any constraint.
Why choose Taxi Casablanca?
Taxi Arganier welcomes you aboard its fleet of high-end vehicles and provides you with experienced, punctual and discreet drivers. From their experience, all our drivers will be able to advise you in your travel choices thanks to their perfect knowledge of the city of Casablanca.
Our experienced taxi drivers in Casablanca will take you safe and sound to your chosen destination. Airport shuttles Casablanca, Essaouira, Marrakech, agadir and other cities or longer trips are available in our high-end, reliable and contracted taxis .
We have a range of branded, spacious and comfortable taxi vehicles, allowing you to travel up to seven people, all our taxis are equipped with air conditioning. Our taxis in Casablanca also have a security partition between the driver and the passengers, making it one of the safest ways to travel today.
Our service can include a reception at Casablanca Lesquin airport, Essaouira airport, Marrakech airport and any other destination of your choice; you will be welcomed by a professional, competent and courteous driver, with a sign in your name (on request).
Useful Info
| | | |
| --- | --- | --- |
| Road | Duration | Km |
Book a taxi from Casablanca to Essaouira
Booking a taxi in Casablanca or Essaouira has never been easier with our company. Contact us directly by email, phone or via Whatsapp at the bottom of your screen. Take advantage of a Casablanca Essaouira taxi at the best price to get to Part Dieu train station or Essaouira airport, for example.
Travel in comfortable vehicles with rates that are guaranteed fixed and without surprises. A team is constantly listening to you in order to offer you concrete solutions to meet your Casablanca Essaouira transfer needs.
Need a taxi in Essaouira to get to Casablanca, Marrakech or Agadir? Our all-distance service offers you the opportunity to travel to both near and far destinations.
Indeed, from and to Essaouira, move easily aboard our taxi. Whether it's to go to work, go shopping, go out in Casablanca, consult a specialist or even to go away for the weekend.
Also, our drivers are able to drive you on long journeys like Casablanca Essaouira. They can drop you off in any city, such as Agadir, Marrakech or any other southern city on request.

Your taxi driver Perpignan station
Move serenely from or to Casablanca station thanks to the driver of Arganier Taxi. Whether you are on a business, private or medical trip with reduced mobility, your Casablanca station taxi driver will accompany you in the best conditions. Travel in complete peace of mind aboard comfortable, secure, air-conditioned and adapted vehicles. By booking your taxi, you ensure a punctual driver who will take care of you without waiting time at the place of your choice for the destination of Casablanca Essaouira. The latter also accompanies you by long-distance taxi like Essaouira Casablanca, whatever the kilometers to be covered. As an experienced driver, he makes it a point of honor to drive you in optimal safety conditions. This is why he undertakes to check and have his vehicles regularly maintained.


A tailor-made service
In order to accompany you for all your events, Arganier Taxi offers you the possibility of choosing to travel aboard a sedan or a mini van. Thus, depending on the reason for your trip and the number of passengers, your Casablanca station taxi driver will meet all your requirements. Indeed, the comfortable sedan will be perfect for discreet travel in small numbers. While the mini van will respond to group travel requests of up to 8 passengers.
Booking a Casablanca Essaouira taxi service has never been easier with Arganier Taxi! For a taxi reservation a few clicks are enough. Tell us your place of pick-up and drop-off, the day and time of your Essaouira Casablanca trip and benefit from a driver available 7 days a week and 24 hours a day, including public holidays.
Whether your travel needs by taxi Casablanca Essaouira are touristic, professional, private or simply to the train stations and airports of Casablanca or Essaouira. Our drivers adapt to facilitate your transport.
Arganier Taxi provides you with all types of transport in Essaouira and its surroundings. We frequently serve the city of Marrakech, Agadir, Essaouira, Casablanca.

Taxis in caen and its agglomeration
Arganier Taxi is a company with nearly 10 years of experience, including 10 taxi artisans who crisscross Essaouira and its agglomeration, Casablanca 24 hours a day, 7 days a week. Being a group of artisans, we have remained on a human scale, all our customers are the customers of each private driver.
All our drivers have signed a quality charter for services that meet your requirements. They transport you for your journeys to Casablanca airports, train stations, tourist circuits, and wherever you want, whether you are an individual or a professional.
Our satellite location system, on board our 10 vehicles, optimizes your arrival time and reduces the amount of the drivers' approach counters. We have state-of-the-art technology to minimize waiting times, a telephone exchange accessible day and night, a sales department at your disposal.
Our taxis in Casablanca put at your disposal their great experience to drive you to your destination, a team of professionals at your service and a range of vehicles selected for your comfort.


Casablanca Essaouira taxi/shuttle
Arganier Taxi is an expert in Airport and Station Transfers. Specialist in long distances Casablanca Essaouira, our company will be able to transport you in the best conditions and in complete safety, with an affordable fixed rate defined during your Casablanca Essaouira taxi reservation. Our shuttle service will accompany you on departure and/or arrival at Casablanca airport and train stations, throughout the territory, respecting your flight schedules and train schedules. During your Casablanca Essaouira transport, whether you are alone or up to 7 passengers, with luggage or not, Arganier Taxi will be able to take care of you in a luxury Mercedes VAN with all comfort in order to make you have a great time during the trip to to your destination Casablanca Essaouira. Services will be at your disposal during these long journeys: phone chargers, digital press and refreshments.

Taxi Casablanca Essaouira is committed to delivering a service of excellence and privileges exclusively reserved for its customers, in Casablanca and in Morocco as a whole.
Taxi Casablanca Essaouira guarantees quality service and high-end services. Our drivers have undergone training and are qualified. It is therefore in complete peace of mind and with your eyes closed that you will be driven to your destination.
With Taxi Casablanca Essaouira, no surprise, the price of the race can be calculated for you in advance. We can also offer you a pick-up schedule during your station or airport transfers to avoid any stress during your trip to Essaouira.

Private driver in Casablanca
Are you looking for an alternative to a taxi from Casablanca to Essaouira or to another city? You can book your transport car with driver for all your short and long distance transfers, alone or in a group. Whether it's for short trips to get to the station, the hotel, the spa or for an airport transfer to Casablanca, Essaouira, Agadir, Marrakech... We transport you wherever you want. Our drivers are at your service, day and night, to make the trips you need, at the fairest price.
In particular for a medical or professional appointment, accompanying your children to school, going to the beach, transporting you for a wedding, a birthday, a seminar, a fair or a festival: we accompany all your trips!
You can make a Casablanca Essaouira taxi reservation on our website, or on Whatsapp.
We are able to meet all your needs and ensure your safety during your trip to Casablanca Essaouira. You have the possibility to book your transfer directly via Whatsapp or by Email if you wish to have a personalized quote, in particular for a provision, for your long and/or successive journeys.


Better than a taxi! Book your driver at Casablanca Station
Book a VTC at Casablanca Station 24/7 in advance or immediately, alone or for a group. It works like taxis! Our drivers will welcome you day and night, directly at the station. Choose your destination, our taxi Casablanca Essaouira at your service, regardless of the distance of the trip. You can make the reservation in advance or immediately, we will offer you a service adapted to the number of passengers in the vehicle, and the distance of your journey from Casablanca Essaouira, all this at a price adapted to your race, to move you cheaper. Ask for your quote, our drivers will take care of answering you.


Book your driver from Casablanca Airport to Essaouira
No taxi available? Do you want to know the cost of your trip before arriving at the airport? Book a VTC at Casablanca Airport 24/7 in advance or immediately, alone or in a group. Whatever the time and distance, your driver will be waiting for you at Casablanca or Essaouira airport in a comfortable vehicle adapted to the number of passengers. You can also book taxi Essaouira Casablanca up to a year in advance, after buying your plane ticket for example, via Whatsapp or Email. Do you need to go to Essaouira, Agadir, Marrakech or Casablanca? Our drivers are available to carry out your transport with your luggage in the city of your choice.


Book a Long Distance trip from Casablanca to Essaouira
Book a VTC for a long distance trip. Our service is an alternative to Taxi in Essaouira. We offer you a personalized service with a fixed and guaranteed price at the start of the trip over the distance of your choice, whether in Casablanca or Essaouira, alone or in a group. Do you want to leave in a hurry or book for later? We will be able to respond to your request from Essaouira, Essaouira and its surroundings. We are at your disposal, for all your journeys, thanks to our comfortable vehicles, our services included in the race (sweets, water bottles, advice on the city) because comfort is in the details: that's the additional service MyCourse: short and long distance transport from Casablanca Essaouira, at a lower cost, with optimal service.


Your contracted taxi company in Casablanca and Essaouira
With our selection of Casablanca Drivers, Arganier Taxi guarantees you a service beyond your expectations. Indeed, we constantly check the quality of all our services. You will therefore find total satisfaction with our taxi company Casablanca Essaouira.
We are committed to making your Casablanca Essaouira transport unique, unforgettable and enjoyable. You will certainly have the best quality of transport with our transport service in the cities of Morocco.
Covid-19: In order to guarantee the health and safety of our passengers and our drivers, we are committed to respecting the health charter which offers passengers the best health safety standards on the market.
All our passengers and drivers must wear a mask. More than ever, in this time of crisis, we remain by your side and available to answer all your questions via the Contact section.

Where and how to get a taxi in Casablanca?
The ideal would be to book your taxi from Casablanca to Essaouira, especially if your trip is planned in the following days. Taxi Reservation Casablanca offers you a personalized reservation service for taxi transfers to Essaouira station and airport from Casablanca. Whatever your position in the city of Casablanca, you can get your Casablanca taxi immediately or by reservation. Our online Casablanca taxi booking module will allow you to get your Casablanca taxi in Essaouira in three small steps: enter the details of the trip (origin, destination, time), choose a vehicle, fill in the contact information. Whether it is for a return from the cinema or an evening, for a group visit or for emergency assistance, our taxis in Casablanca are available 24 hours a day, 7 days a week. In addition, the prices of our Casablanca taxi transfers are defined in advance. Therefore, no surprises on arrival.

If the Casablanca taxi driver is free, he will take you immediately. The disadvantage of this way of proceeding is that you cannot know in advance exactly how much you will pay at the end of the trip. Indeed, Casablanca Essaouira taxi fares may vary depending on road traffic.

Finally, you also have the option of going to the nearest Casablanca taxi terminal. You can use the Maps application on your smartphone to find your way around more easily. Although in Essaouira there is no taxi terminal referenced to date, you can obtain a list of available Casablanca taxi drivers. You just need to contact us online. However, the disadvantage compared to the Casablanca taxi fare is the same.


Transfer by taxi from Casablanca to Essaouira
When you want to take a taxi in Casablanca, the first question you ask yourself is: where and how to find a taxi in Casablanca?

Indeed, several options are available to you. As is traditionally done and regardless of the city, you can simply hail a taxi in the center of town. If the Casablanca taxi driver is free, you will benefit from immediate support. The disadvantage of this Casablanca to Essaouira taxi option is that it is very likely that you will not know in advance how much exactly you will pay at the end of your Casablanca Essaouira trip. This is due to the fact that the cost of the taxi can vary depending on the density of road traffic.

In addition, you can go to the hotel or the airport in Casablanca. To find you more easily, you can use the Maps application installed on your smartphone. In Casablanca, a taxi terminal is located at Mohamed 5 airport. You will surely find a Casablanca taxi there that will take you to the destination of your choice. However, the inconvenience remains the same as when hailing a taxi in downtown Casablanca or Essaouira.

Finally, the ideal option is to book your Casablanca Essaouira taxi in advance. Taxi Reservation Casablanca provides you with a very varied range of comfortable vehicles adapted to your needs and for any occasion. So, no matter where you are in the city of Casablanca or Essaouira, you can reserve your Essaouira taxi. With a smartphone and an internet connection, fill in your destination, choose your Casablanca taxi and receive your driver at the agreed time and place. Unlike other options, you can know the cost of your Casablanca Essaouira trip when you book.