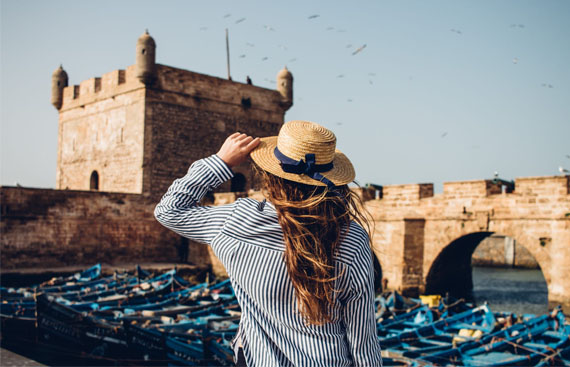 Take an excursion to Essaouira, to discover the ancient Portuguese city. The 18th century European fortress, the feel of the Atlantic and the maritime air, is located two and a half hours by road from Marrakech, passing through dry plantations and the most famous "Argan tree".
Essaouira, the historic port city, formerly called "MOGADOR" is now the cradle of artists and surfers from all over the world, seeking adventure, fun, calm, serenity and inspiration. These reflect the influence and grandeur of the Arab-Portuguese and Berber culture of the region.
Start your excursion from Essaouira by exploring the ancient fortifications that blend Portuguese and Berber architecture. Take a stroll through the old medina and discover its souks, its painters and carpentry workshops, and taste their cedar wood sculptures.
And that's not all. The visit is far from over, Explore the cultural side of the city, visit the art galleries, let yourself be carried away by the colors and the charm of an art that calms the nerves.
Listen to the GNAOUI tunes, its musicians who are inspired by songs from Guinea, especially with the GNAOUAS Festival which is held every year in June "from the second week". Three days of festivity and fun.