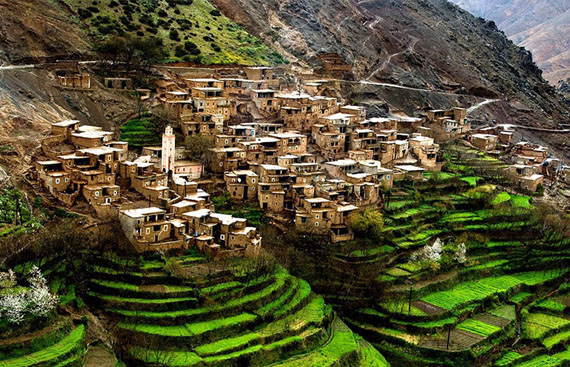 Your excursion starts from your place of residence at 9:30 am to visit the magical site of Imlil, the starting point for most of the hikes, on the way you will have photo stops in panoramic places, you can also stop to visit a cooperative of Berber women who produce Moroccan crafts "according to your choice", or program a 30-minute visit accompanied by your driver guide to the weekly Berber souk of Tahnnaoute every Tuesday or that of the village of Asni every Saturday, in order to discover the typically original traditions of the inhabitants.
Around noon you will arrive at the small beautiful village of Imlil known for its miraculous beauty and its original and limitless landscapes arousing the admiration of visitors, and for a marvelous valley. You will absolutely appreciate the various climbs and descents of the mountains bordering the entrance to the great Moroccan atlas.
You will discover the charm of the Atlas Mountains with a temperate climate and a natural and wonderful landscape.
Departing from Imlil village center, you will take a short hike of 1h30 with a local guide to admire the beautiful landscapes and Berber villages. After the walk you can taste the most beautiful Berber and Moroccan meals in typical restaurants at reasonable prices. Your driver can help you choose a good place according to your needs around 3 p.m. you will take the way back to Marrakech, leaving behind an image loaded with memories so memorable that you will keep forever.