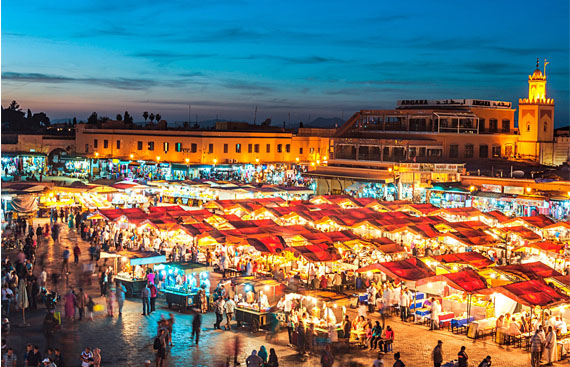 The city of Marrakech has a major airport, it is Menara Airport. Our Taxi service in Agadir is a way that is both economical and safe to get there or leave if you are returning from a trip. The comfort is much greater than with a shuttle. Our service allows you to avoid queues, which are frequent at taxi stands. There is no advance reservation possible for races departing from Marrakech or Agadir airport. You simply wait less than 10 minutes and pay on board, in cash or by card. For transport from Marrakech airport, we work on the basis of a guaranteed fixed price determined when ordering. It is the timetable that varies the price of the taxi depending on the traffic at that time. Agadir Airport You can also use a Marrakech Taxi to drop you off at Agadir Airport
Transfer from Airport Marrakech
Transfer from Marrakech
Taxi Marrakech Airport
Taxis Marrakech-agadir is an economical and reliable solution to get to Menara Marrakech airport. Our competitive packages by zone are valid for reservations up to 7 days in advance. When you land in Marrakech, avoid the queues at the taxi stand. If you traveled with hand luggage, call us at +212667158272 as soon as you exit your plane. If you have baggage in the hold, wait for it to appear on the conveyor belt and contact us. A taxi driver with a sign in your name will be waiting for you within 10 minutes in front of the Relay press shop. There is no advance booking for trips departing from the airport.
Transfer from Marrakech to Agadir
Your transport company Taxi Arganiner, with a taxi at Marrakech Côte Airport, welcomes you. Thanks to our taxi specialized in airport transfers in Marrakech, you are sure that our experienced professionals will take care of your trip. Present for many years in Marrakech, our company now offers the benefit of a high standard transport for people wishing to go to Marrakech airport. Versatile, our taxi service is able to fulfill all the missions you entrust. Indeed, you can just as easily entrust us with your airport transfer or keep the driver all day thanks to a provision. In the first case, we will ensure that your transport is both fast, economical, serious and comfortable. In the case of a provision, departure or arrival from Marrakech airport, a taxi driver will be dedicated to your trip. Find this exclusive service if you need an event driver in Marrakech or a wedding taxi driver.
Bringing you to the location of your choice is our priority. Thus, we serve Marrakech but also the entire region Marrakech Tensift Al Haouz, Agadir and Essaouira but also the national territory. Discover all the most popular destinations departing from Marrakech airport with ease on this site
Contact Taxi Marrakech
Do you have a question for your next trip? Call us quickly at the number that appears on our website. In this way, you will have a professional contact to answer all your questions. And in addition, you can book and block the slot of one of our taxis at Marrakech airport.
Book a taxi at Marrakech airport
Booking a taxi at Marrakech airport is quick and easy. Several choices are available to you. Indeed, you can order a taxi at Marrakech airport by phone or you can do it directly online. Thanks to our booking module, you have immediate access to the price of a transfer from Marrakech airport to Agadir. You won't be BLINDFOLDED like when you take a taxi. In addition, you can save money by booking a Marrakech Airport Transfer taxi driver, but also have a free mind. We take care of everything for your transfer. Whatever your requests, you will have a taxi, at any time!
The process of booking a taxi driver is a two-step process. First, you book and then we quickly confirm the reservation by contacting you by email or phone. During the booking process, don't forget to tell us your flight number. Thus, we will be able to follow your flight thanks to the application of the airport of Marrakech. This is how we can anticipate your delay or your advance to ensure that a driver will be punctual upon your arrival at Marrakech Airport.
Our transfer service to Marrakech airport is available all year round. Our taxi drivers are waiting for you in their comfortable vehicles 365 days a year. Summer and winter, in spring and autumn you will always have a taxi to take you to and from Marrakech and also from and to Agadir and its airport.
Our taxi booking service at Marrakech airport is available 24/7! , See also our Taxi Agadirservice.
Useful Info
| | | |
| --- | --- | --- |
| Road | Duration | Km |
Book a taxi at Marrakech airport
Arganier Taxi is able to take you wherever you want, arrival or departure from the Marrakech train station as well as to visit tourist sites and heritage sites.
We will put a taxi Marrakech Agadir service of choice at your disposal such as the care of your luggage, a refreshing bottle... We are of course attentive to your every wish in order to make your trip as pleasant as possible. Never fear if your train or flight is delayed.
Our driver will wait for you patiently at no extra charge. Available by prior reservation or by simple call, let us know the place, day and time at which we will pick you up and your destination. We can also accompany you back to your starting point or transfer you to one or more other sites.
You can book your taxi Marrakech Agadir by phone or online, Arganier Taxi will take care of you at the address you will give us. The price announced during your order will be respected and it also includes the transport of luggage.
A professional driver is at your service once in Marrakech
Arganier Taxi provides you with a tailor-made taxi Marrakech Agadir service to help you get around easily and comfortably. Make your reservation to take advantage of a high quality taxi Marrakech Agadir service offered at a competitive rate. A private driver awaits you there, and you can choose from a wide choice of vehicles. To meet your expectations, Arganier Taxi offers you a VTC driver in van, sedan or other comfortable vehicles for your Marrakech Agadir transfer.


A private driver available to take you anywhere in Marrakech
For all your Marrakech Agadir private or professional trips, Arganier Taxi ensures that you enjoy optimal comfort in a vehicle with private driver. All you have to do is book on our website or app to enjoy our services. Specialized drivers are available for your business trips from Marrakech to Agadir. They are also able to transport you for your evenings or for any important event.


Enjoy the comfort of a taxi from Marrakech train stations
With Arganier Taxi, your Marrakech Agadir journey will be most enjoyable. At the same time, you will benefit from a competitive rate depending on your destination. For your tourist stays or to drive you home or to other addresses, also opt for a taxi with driver from Arganier Taxi.


Discover Marrakech Agadir by VTC
Want to visit Agadir, go around the city or go to the surrounding towns? We offer taxi services Marrakech Agadir and surroundings at the best rates. By focusing on quality above all, Arganier Taxi provides you with a top-of-the-range service for your trips to Agadir. Our taxi drivers Marrakech agadir offer you a warm welcome on your arrival. They are also committed to always being punctual to fully satisfy you. Our goal is to ensure that you have a pleasant experience in our VTC vehicles during your Marrakech Agadir trip. We take care, moreover, of your safety thanks to the competence and professionalism of our drivers as well as the rules of hygiene and optimal cleanliness.


Book your driver at Marrakech train station
The Arganier Taxi company intervenes by reservation only, 7 days a week by offering an alternative Taxi Marrakech Agadir. Our company has a professional license for the transport of people for a fee.
Our driver from Marrakech Agadir welcomes you to the parking lot located on the left when leaving Marrakech train station in front of the Terminus brasserie with a name sign.
Baggage help, welcome on the platform with your car number.
Drinks, sweets and cables to charge smartphones are available in the vehicle.
The price is known in advance and remains the same even in the event of difficult traffic and delay of your train.
Our taxi Marrakech Agadir are equipped with a payment terminal accepting credit cards, Visa, Mastercard and Maestro.
Personalized welcome upon your arrival.
Same price even if the train is late.
Transport from 1 to 7 people in a Mercedes E-Class, GLC-Class, V-Class and S-Class sedan or minibus from Marrakech train station


Book your driver at Marrakech train station
With Arganier Taxi, trust taxi Marrakech Agadir service specialist in the southern region. We operate 24 hours a day, 7 days a week to transport our customers throughout the beautiful city of Marrakech or Agadir. Our service provides 2 professional and competent drivers with a service adapted to your needs. To make your trip as pleasant as possible, our entire fleet of Mercedes vehicles is air-conditioned and comfortable to meet your needs. We ensure your trips from Marrakech Agadir, whether professional or private in the southern region and the surrounding area, by offering you a quality service at agreed rates. Discover all the services offered by the Arganier Taxi company in the region of Marrakech and Agadir.


Your taxi trip Marrakech Agadir and those around
Are you going on a train trip or arriving at the station? We offer you a fast and efficient means of transport for taxi Marrakech Agadir. Enjoy a personalized and pleasant welcome from our professional drivers at Marrakech station, to drive you to downtown Agadir or to any other destination of your choice. Thanks to our Marrakech Agadir transport service, you will facilitate and optimize your time, no more traffic jams and unpleasant searches for a free parking space. Experts in the southern region, we will be able to effectively avoid traffic jams to save you time and peace of mind.


Online Taxi prices and quotes
For your comfort, a price list of key destinations departing by taxi from Agadir, as well as a personalized online quote for a Marrakech Agadir taxi! Les Taxis d'Agadir also offers an online booking service. We advise you to book your taxi Marrakech Agadir at least 24 hours in advance, in order to be served at best, especially for the taxi Marrakech Agadir service. Finally, do not hesitate to contact us in order to obtain a personalized answer or more information.


Your taxi journey to Marrakech airport
Board your plane in complete peace of mind thanks to one of our shuttle taxis in the airports of Marrakech and the surrounding area: Agadir, Essaouira, Casablanca, Rabat, Ouarzazate... The airport transfer is a regular service that we master, finding a Marrakech Agadir transport service for the airport has never been easier thanks to the Taxi Marrakech Agadir service!


Approved taxi in Marrakech
We have approved Taxi Marrakech Agadir for all your TAP trips to medical establishments in the Marrakech region. With Arganier Tax you have the guarantee of a private driver at your disposal and trained that your request must be punctual or regular. for your Marrakech Agadir transfer


A Marrakech Agadir VIP taxi service
Do you have an important client coming? Discover our VIP transfer services by taxi Marrakech Agadir, from Marrakech or to Marrakech airport. Our private drivers will take care of your customers with a tailor-made and individual welcome. Our VIP service also offers tours of Agadir and its surroundings aboard our sedans. We can pick up your VIP at the hotel, at the train station or directly at your company. The confidentiality and discretion of our taxi Marrakech Agadir drivers is assured. Thanks to our range of prestigious taxis, as well as our agency "Arganier Taxi entirely dedicated to luxury transport Marrakech Agadir, discover Grenoble and its surroundings in complete freedom.


My Chauffeur In Marrakech
After spending several years practicing the profession of taxi driver in Marrakech, I made the choice to embark on the profession of VTC driver, to be able to take full advantage of the freedom it offers and to be able to offer my customers a taxi Marrakech Agadir service that I believe meets their expectations.
My motivation to satisfy the expectations and needs of my customers drives me every day to improve the quality of your Marrakech Agadir trips by VTC. I am committed daily to putting my professionalism, my experience, my taste for excellence and my passion at your service, in order to offer you the most pleasant and secure transport conditions possible. I also appreciate being able to offer a taxi Marrakech Agadir service close to you, where I can take care of my customers and their satisfaction from A to Z, from your taxi Marrakech reservation to your customer opinion after the race.

taxi Agadir of your choice
Once your Taxi Marrakech Agadir reservation has been made, all you have to do is let yourself be driven. I pick you up wherever you want and drive you to your destination. I drive, for your comfort, a VAN which allows me to take care of up to 8 passengers. You can also book a VTC Van Agadir, the race will be provided by a trusted colleague who shares my idea of ​​the profession of private driver.
Shuttle Agadir Marrakech- Practical Info
Our drivers rigorously apply the prefectural pricing, i.e. the prices set by the State, providing a service 7 days a week and 24 hours a day.
Our drivers are committed to a quality charter to offer you the optimal service that best meets your expectations.
Taxi Arganier does not apply any surcharge on telephone calls or on the services offered